News
President Trump orders more unemployment pay at new amount, payroll tax deferral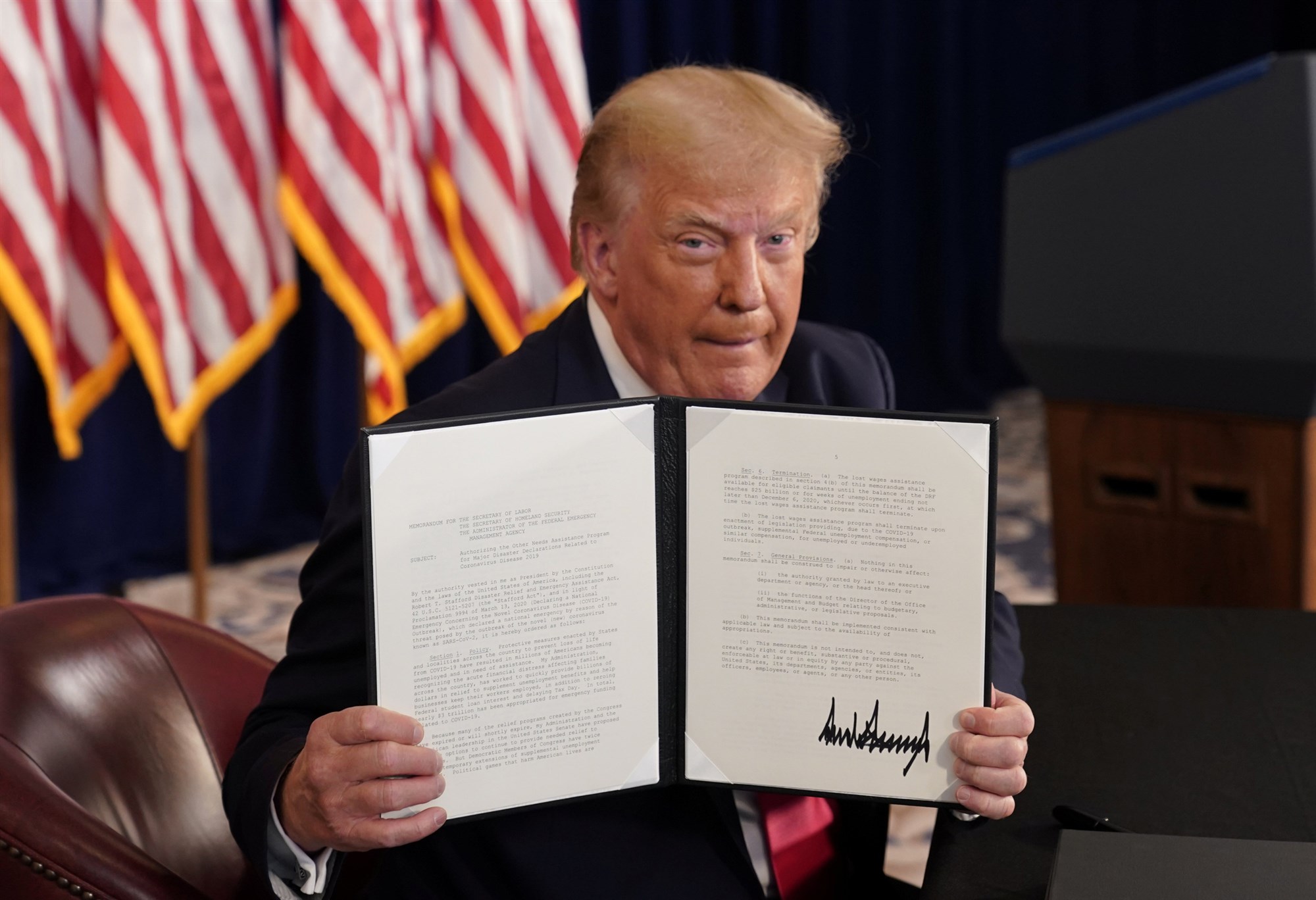 Bypassing Congress, President Donald Trump on Saturday signed executive order deferring payroll taxes for some Americans and extending unemployment benefits after negotiations on a new coronavirus rescue package collapsed.
At his private country club in Bedminster, New Jersey, Trump signed four executive orders to act where Congress hasn't, contending Washington's gridlock had compelled him to act as the pandemic undermined the country's economy.
Trump said the payroll tax cut would apply to those earning less than $100,000 a year. He said that if he is reelected in November, he would look at the possibility of making the payroll tax permanent.
Trump said the employee portion of the payroll tax would be deferred from Aug. 1 through the end of the year. The move would not directly aid unemployed workers, who do not pay the tax when they are jobless, and employees would need to repay the federal government eventually without an act of Congress.
"If I win, I may extend and terminate," Trump said, repeating a longtime goal but remaining silent on how he'd fund the Medicare and Social Security benefits that the 7% tax on employee income covers. Employers also pay 7.65% of their payrolls into the funds.
Trump also moved to continue paying a supplemental federal unemployment benefit for millions of Americans out of work during the outbreak. Congress allowed those payments to lapse on Aug. 1.
Extra aid for the unemployed will total $400 a week, a cut from the $600 that just expired. He said states will be asked to contribute 25% of that new amount.
"It's $400 a week, and we're doing it without the Democrats," Trump said, asking states to cover 25% of the cost. It was not immediately clear where the federal portion would come from — though the president suggested he was looking to use unspent funds from previous coronavirus relief bills — and Trump said it would be up to states to determine how much, if any of it to fund.
Trump also signed executive orders holding off student loan payments and extending the freeze on evictions.
The president also spoke Friday at his golf club in Bedminster, New Jersey, to talk about the country's response to the coronavirus, the economy and the tragedy in Beirut.
Senate Majority Leader Mitch McConnell issued a statement saying he supported Trump "exploring his options to get unemployment benefits and other relief to the people who need them the most." Like Trump, McConnell accused Democrats of using the coronavirus package negotiations to pursue other goals.
Democrats said they were not favorably impressed by Trump's orders. In a joint statement, House Speaker Nancy Pelosi and Senate Minority Leader Chuck Schumer said that "these policy announcements provide little real help to families." They added: "Democrats repeat our call to Republicans to return to the table, meet us halfway and work together to deliver immediate relief to the American people. Lives are being lost, and time is of the essence."
---
News Source: wcvb.com
Photo Credit: Joshua Roberts / Reuters